Dennis Rodman
Mchezaji wa zamani na maarufu wa muda wote wa mchezo wa Mpira wa Kikapu(Basketball) Dennis Rodman hatimae amekutana na baba yake mzazi aitwae Philander Rodman baada ya baba huyo kumuacha mama yake Dennis miaka 48 iliyopita.
Dennis Rodman aliewahi kuzichezea timu za Pistons,Spurs,Bulls,Lakers na Mavericks hakuonana na baba yake kwa miaka 42 na hivi karibuni kukubali kukutana na baba yake huko Manila nchini Phillipines wakati wa mechi za Basketball.
Philander Rodman Jr ni baba wa watoto 29 kwa mama 16 alisema alipatwa na mshangao na furaha pale mwanae alipokubali kukutana nae huko Manila jumatano ya tarehe 19 july 2012, baada ya jaribio lake kushindikana mwaka 2006 siku ya michezo kama hiyo huko Manila,Phillipines.
Dennis Rodman akielezea kwa hisia na uchungu kuwa alikuwa na wakati mgumu katika maisha yake kwa kulelewa na mama tu na kukosa mfano wa kufuata kutoka kwa mzazi wa kiume(baba) ndani ya nyumba,
Philander Rodman Jr (Baba mzazi wa Dennis Rodman)
Yafuatayo ni maneno ya Rodman akielezea hisia zake;
"I never really knew my father, Philander Rodman. He was in the Air Force in New Jersey, where I was born, and when I was three we packed up and came back to Dallas where my mother is from. We did this when my father stopped coming home.
My father isn't part of my life. I haven't seen him in more than thirty years, so what is there to miss? I just look at it like this: Some man brought me into this world. That doesn't mean I have a father; I don't. I could say, 'This is my father. This is my dad,' but that doesn't sound right to me. I grew up with my mother and two younger sisters, Debra and Kim. There wasn't a male role model in my life until I got to college and started getting my [act] together."
Baba nae alikuwa na haya ya kusema;
''I've been trying to meet him for years. And then last night, boom, I met him. I was really, really happy and very surprised,'' he told The Associated Press.
''I really, really felt good,'' he said. ''It's the beginning of something new.''
Baba na Mwana walipokutana baada ya miaka a.k.a Nyundo 42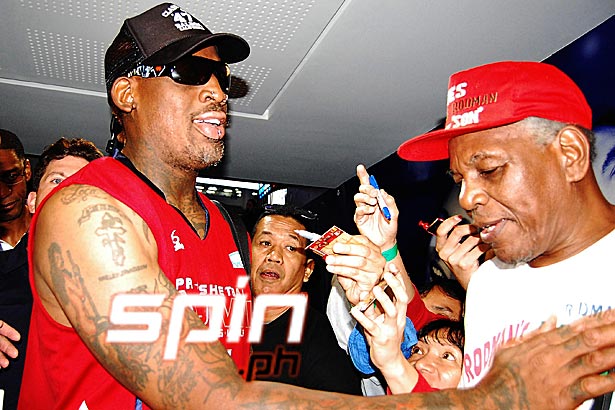 Mzee ulinitosa au?.........
Rodman akisaini vitabu vya kumbukumbu kwa mashabiki wake huko Manila nchini Phillipines ambako ndiko alipokutana na baba yake 19 july.
Rodman enzi zake akikipiga na Pistons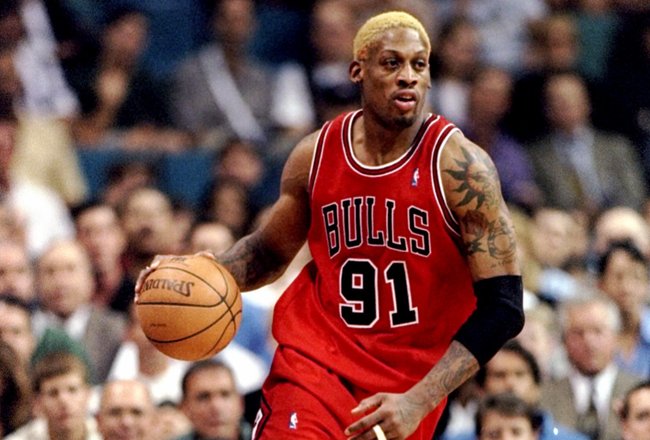 Rodman enzi zake akikipiga na Chicago Bulls
Hapa akikipiga na Spurs
Hapa akikipiga L.A Lakers
Enzi akikipiga na Dallas Mavericks
Rodman katika swaga na mbabe wa mieleka maarufu Hulk Hogan..na alama za Freemasons
Haya ..Hii alama inasemekana ni ya Freemasons!