Wednesday, March 12, 2014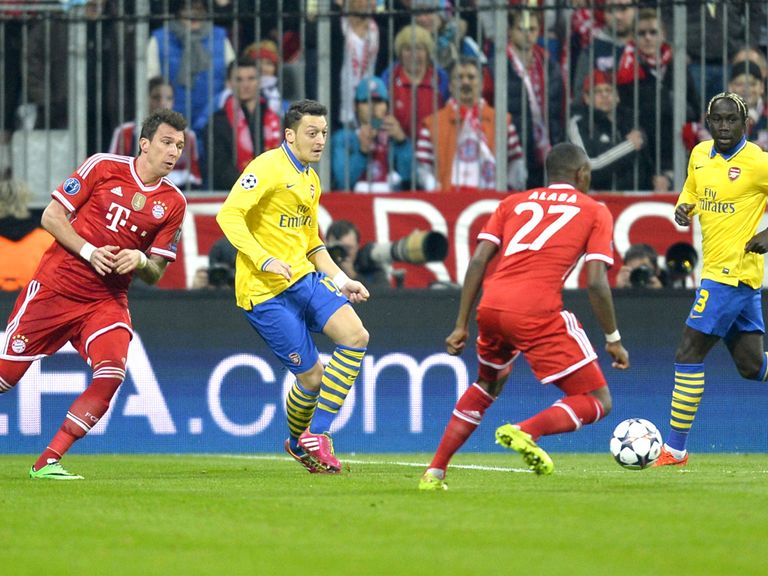 Ozil akijaribu kuwahadaa walinzi wa Bayern
Arsenal imebanduliwa nje ya michuano ya kuwania kombe la klabu bingwa barani Ulaya, licha ya kutoka sare ya kufungana bao moja kwa moja na mabingwa wa Bundes Liga, Bayern Munich.
Kufuatia sare hiyo Bayern sasa imejihakikishia nafasi katika robo fainali ya kombe hilo.
Bayern imefuzu kwa robo fainali hizo kwa jumla ya magoli matatu kwa moja, baada ya kushinda mechi ya awamu ya kwanza kwa magoli mawili kwa yai.
Hata hivyo mabingwa hao wa Ujermani wangeliwaadhibu zaidi vijana wa Arsene Wenger, lakini bao la Javi Martinez lilikataliwa na refa wa mechi hiyo, kwa misingi kuwa mchezaji huyo alikuwa amejenga kibanda katika eneo la wenyewe.
Bayern ndiyo ilioona lango la Arsenal, kabla ya Lukas Podolski kusawazisha.
Kipa wa Arsenal aliiepushia klabu yake aibu zaidi pale alipookoa mkwaju wa penalti uliopigwa na Thomas Muller.
Kuondolewa kwa Arsenal katika kinyang'anyiro hicho sasa kumewaacha na nafasi mbili pekee ya kumaliza ukame wao wa miaka tisa wa kutoshinda kombe lolote.
Arsenal ingali inawania kombe la FA na lile la ligi kuu ya Premier ingawa wako alama tisa nyuma ya vinara wa sasa Chelsea.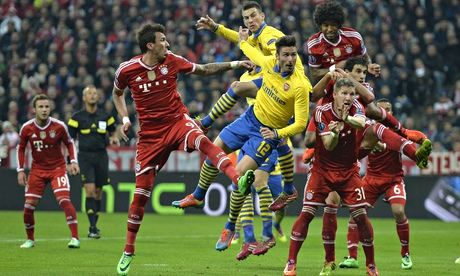 Mshikemshike katika lango la Bayern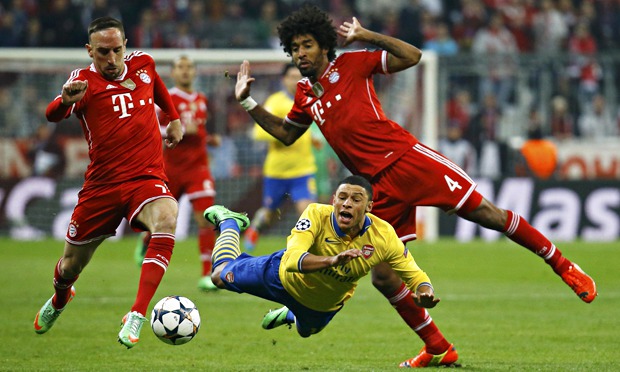 Oxlade Chamberlain akiwekwa chini na Ribery
Mlinda mlango wa Bayern Neur akidaka mpira wa kona.
Pal Mertesacker akiondosha hatari mbele ya Alaba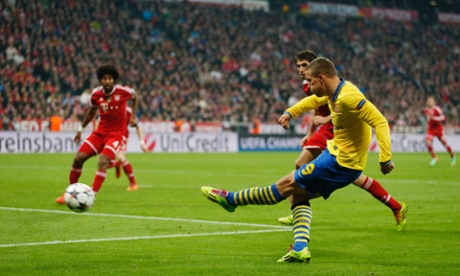 Podolski akiachia nduki iliyoelekea moja kwa moja wavni na kuipatia Arsenal bao la kusawazisha.
Kazi moja Sagna na Alaba
Robben akiwa chini alipojiangusha na kupatiwa penalt.
Daah tumekufa kiume...................
Bayern 1-1 Arsenal
1. Chocolate

Unlike their feline friends, most dogs don't have an "off" button when it comes to finding food, says Dr. Tina Wismer, medical director at the ASPCA Animal Poison Control Center. While the amount of chocolate your dog consumes will also determine the toxicity, symptoms of chocolate poisoning to look out for can include vomiting, diarrhea and seizures. According to Dr. Wismer, the darker the chocolate is, the more serious the poisoning can be — making baker's chocolate and cocoa powder more dangerous than milk chocolate.
2. Xylitol

An artificial sweetener found in sugarless gum, candy, and baked goods, Xylitol may be approved for people but can cause liver damage and a life-threatening drop in blood sugar in dogs. According to the Pet Poison Helpline (PPH), a 10-pound dog would only need to eat a single piece of sugar-free gum to reach a potentially toxic dose. Low blood sugar can develop within 10 to 15 minutes of ingestion, in addition to vomiting and loss of coordination, says PPH.
3. Grapes

Both grapes and raisins can cause kidney failure in dogs, with vomiting, increased urination and increased thirst potential symptoms of poisoning. Help your dog stay out of trouble by keeping grapes and raisins out of reach at all times. Dr. Wismer also recommends talking to your vet about a list of things you and your children should or shouldn't feed your pets.
4. Onions/Garlic

If eaten in large amounts, onions and garlic can cause the destruction of red blood cells and lead to anemia in dogs, Dr. Wismer says. Although the size of the dose determines the level of poisoning, lethargy and a reduced appetite can be symptoms of a toxic reaction. The sooner you diagnose potential poisoning the better, so if they're acting strangely don't hesitate to call your veterinarian.
5. Alcohol

Beer, wine and cocktails aside, alcohol can also be found in desserts and can be created in your dog's stomach if they ingest homemade or store bought yeast dough used in making bread, rolls and pizza. Even small amount of alcohol, both ingested through alcoholic beverages and produced in the stomach, can be life threatening, making it important to call your vet before you notice any serious poisoning symptoms like seizures. Dr. Wismer suggests teaching your dogs how to "leave" or "drop" things to prevent them from consuming dangerous foods both at home and outdoors and training young children not to leave things where dogs can get into them.
If you believe you pet has ingested a toxic substance, call the ASPCA animal poison control center at 888-426-4435 or the Pet Poison Hotline at 855-213-6680. Both phone lines are open 24 hours a day, seven days a week.